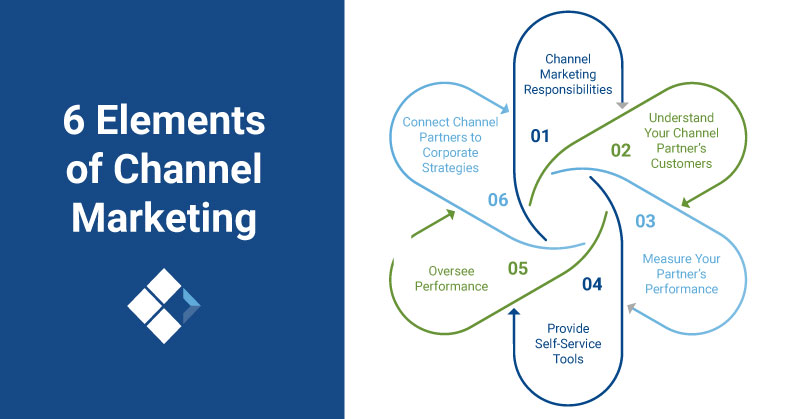 Many organizations invest in channel partners without fully capitalizing on the potential benefits. Inaccurate tools, misinformation about the programs, and unclear decision-making processes are just some common pitfalls. To truly engage with channel partners and drive growth, it is crucial to articulate your organization's responsibilities and empower partners to support your goals. This article will explore key elements of channel marketing and provide insights on leveraging these strategies for success.
6 Elements of Effective Channel Marketing
1–Establish and Communicate Channel Marketing Responsibilities
Pitfall: Underutilizing the skills and expertise of your channel partners.
Guiding Principle: Clearly communicate the responsibilities of your channel marketing team throughout the organization and enable them to support your partners effectively. This collaboration fosters a more productive and mutually beneficial relationship.
2–Understand your Channel Partner's Customers
Pitfall: Sales teams may not fully understand the motivations of end customers, leading to missed opportunities.
Guiding Principle: Help your channel partners communicate in the language of their end customers. Utilize market intelligence to identify the unique selling points of your products and determine the customers' problems that they solve. This knowledge empowers your partners to position your offerings effectively.
3–Measure Your Partners' Performance
Pitfall: Challenges arise from multiple sources of truth, limitations of spreadsheets, and an overreliance on intuition.
Guiding Principle: Leverage Sales and Revenue Analytics investments to gain insight into your channel partners' buying behavior. Develop strategies to influence their purchasing decisions based on specific partner segments. This data-driven approach improves performance measurement and enhances decision-making processes.
4–Provide Self-Service Marketing Tools
Pitfall: Channel partners may lack the budget or skills to create high-quality marketing materials.
Guiding Principle: Be your channel partners' go-to resource by offering easy-to-use self-service tools. These tools can include quoting and order entry platforms, market development funds (MDF), cooperative marketing dollars (co-op), displays, and co-branded collateral. By empowering your partners with readily accessible resources, you increase their sales potential.
5–Set Clear Decision-Making Roles for Promotions
Pitfall: Unclear decision-making roles hinder promotion effectiveness and limit analysis of outcomes.
Guiding Principle: Clearly define decision-making roles for each type of promotional activity. Develop the necessary tools to implement promotions effectively. Additionally, identify and isolate key performance indicators that verify whether intended behavioral changes occur.
6–Connect Channel Partners to Corporate Strategies
Pitfall: Failing to communicate corporate strategies throughout the entire partner organization.
Guiding Principle: Tailor marketing strategies to amplify corporate initiatives such as supply chain optimization, product data management, or digital transformation. Align internal sales incentives and promotions to ensure consistent behavior incentives for both partners and your sales team.
Clear iQ's Channel Marketing Approach
Clear iQ's approach to channel marketing involves breaking down organizational silos and fostering collaboration among various departments, including sales, customer experience, customer service, product marketing, finance, supply chain, and IT. To achieve this, we recommend the following:
Utilize structured marketing intelligence techniques to understand end customers' buying behavior deeply.
Establish cross-functional accountability matrices to define roles and responsibilities in promotional activities. 
Align self-service applications with the organizational structure of your customers.
Leverage Clear iQ's Price iQ, Product iQ, and Channel iQ solutions to analyze financial performance and gain valuable insights.
Integrate self-service channels seamlessly into your overall Application Landscape.
Contact Us to discuss your channel marketing strategy.