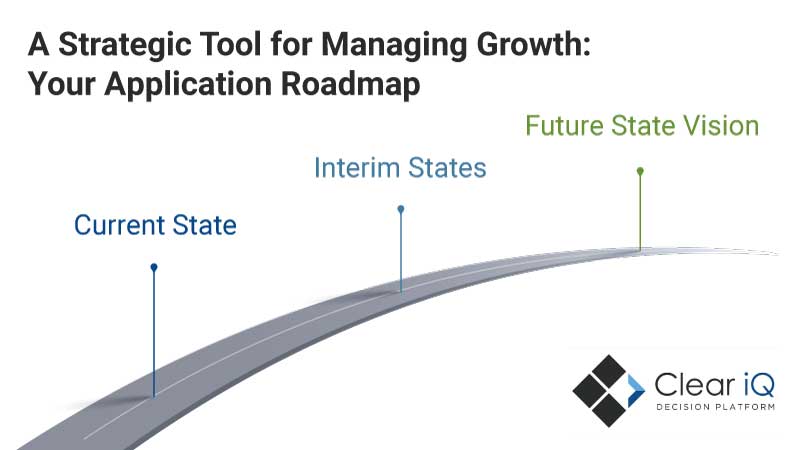 An application roadmap is a visual representation of your application strategy that helps manage and maximize growth. It is a transition plan between your company's current and future state. This article will highlight how developing an application roadmap can ensure you efficiently achieve your vision.
Understanding the Current State of Your Applications
The first step in developing an application roadmap is to understand the current state of your applications. Next, you need to know the baseline and identify the historical investments that you may be able to leverage "as-is," require investment, or are scheduled for replacement. Additionally, you need to identify any redundancy and gaps that may exist.
Defining the Future State Vision
Before developing the roadmap, define your "future state vision"—your concrete plan for the ideal future state of your business. Without this vision, paths become inefficient, and you lack a clear understanding of where you are heading. Ask yourself where you want to be in the future and what steps you need to take to get there.
Defining the Interim States
Interim states exist as stopping points between initiatives. Therefore, you should plan interim states proactively to minimize delays in future investments and detours. In addition, having a clear plan for managing the interim states ensures you can achieve your future state vision efficiently.
The Big Bang Approach vs. The Step Approach 
The Big Bang approach involves building all capabilities and rolling them out by your company's organizational structure, such as order entry, credit, and collections, controls, etc. This approach allows you to build on the components needed for the final solution.
The Step approach allows you to build functionality to support portions of the process and iterate improvements. When rolling out your application roadmap, you do so based on how your customers interact with your company, such as change orders, multiple brand orders, etc. This approach allows you to improve functionality and streamline your processes.
Clear iQ's Application Roadmap Approach
At Clear iQ, we have developed an approach to developing an application roadmap that ensures that you efficiently achieve your future state vision.
Defining the Future State Vision
Defining your future state vision requires prioritization of opportunities, a review of alternatives, and making decisions. The end-state vision requires a systematic approach involving cross-functional work teams to identify opportunities, prioritize them based on complexity and value, define solutions, socialize alternatives with stakeholders, guide leadership through the critical decision-making process, and finalize solutions.
Developing the Transition Roadmap
Once your vision is determined, we help you develop a transition roadmap. This involves classifying opportunities as quick wins, short-term (< 90 days), mid-term (90-180 days), and long-term (> 180 days), establishing a timeline and milestones, determining resource requirements, defining a change management and socialization approach (internal commercialization), sizing and establishing the program management framework, and highlighting tangible progress to leadership periodically.
Conclusion
An application roadmap is a strategic tool to help you manage and maximize growth. By understanding the current state of your application, defining the interim states, and defining your future state vision, you can develop a roadmap that ensures you efficiently achieve your future state vision.
Whether you choose the Big Bang approach or the Step approach, it is essential to have a systematic approach to developing the roadmap to ensure that you achieve your goals.