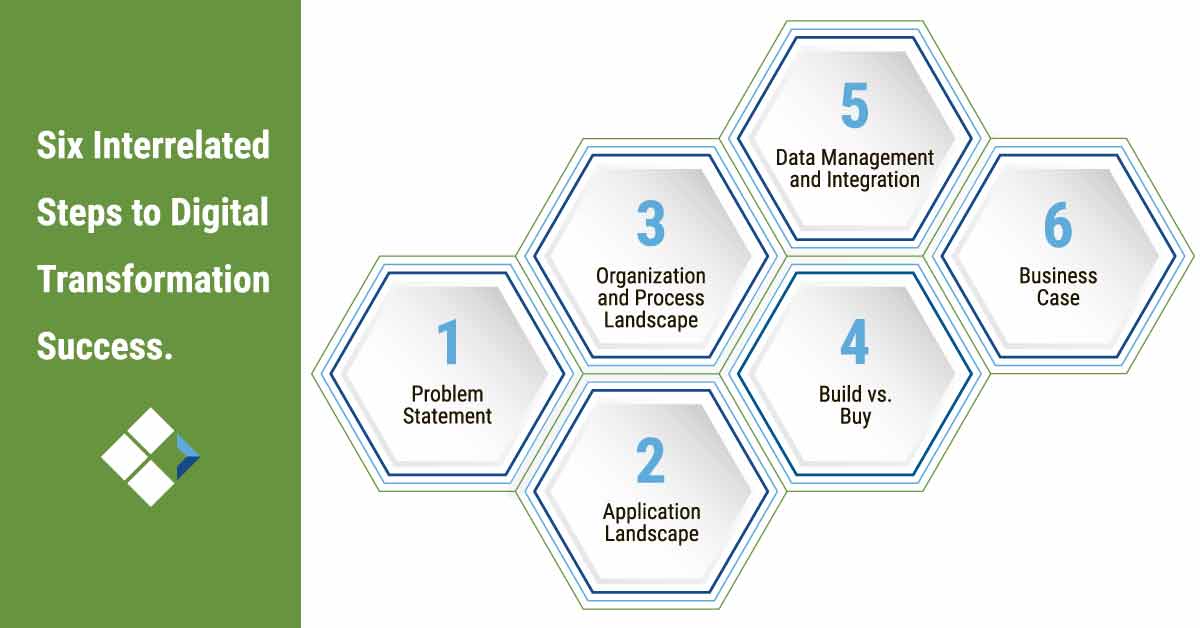 Successful digital transformation requires adjusting your business model through research and planning. Our evaluation and business case approach includes the six interrelated steps outlined below. The process requires tight organizational alignment to ensure stakeholder buy-in and change adoption.
Step One: Problem Statement
Preparing For Your Digital Transformation
The first step involves gaining a complete understanding of the problem or opportunity you are trying to solve. Want to stay in alignment with your competitor's eCommerce capabilities? Or do you just want to automate approvals on vendor invoices? Digital transformation takes many forms, and clarity of your business objective is imperative. To gain understanding, you must conduct customer and market research. We shine at helping you place yourself in the position of your customers, competitors, and stakeholders. As a result, your business objectives for digital transformation become clear. Some tactics we employ during this step include:
Voice of the Customer
Competitor Capabilities
Customer Profiles
Stakeholder Assessment
Gain agreement among customers and stakeholders first to ensure that the solution solves their problem or enables your opportunity.
Skip this step at your own risk.
Step Two: Application Profile
During step two, we place new capability requirements into your existing
application landscape
. In addition, we perform a gap assessment and provide an updated application roadmap. We also identify any existing solutions for decommissioning. Additional components in this step may include:
Current State Analysis
Future State Requirements
Ease of Use
Step Three: Organization and Process Impact
In this step, we define how the digital transformation alters how your teams work, and identify any skills gaps within your organization. Sample activities include:
Organization Impacts
Process Changes
Change Roadblocks
Stakeholder Impact
Step Four: Build vs. Buy
Next, we determine who is responsible for building each element of your digital solution. Typically, this is a combination of internal development by your team and purchased solutions. In step four, we thoroughly review:
Critical Requirements
Alternatives
Requirement Gaps
Step Five: Data Management and Integration
In step five, we outline your integration expectations at each stage of your digital transformation journey. In addition, we ensure that your overall solution includes embedded cybersecurity and regulatory compliance protections. We carefully take into account:
Master Data Sources and Accountability
Transactional Data Flow
User Registration and Maintenance
Cybersecurity and Regulatory Compliance
Step Six: The Business Case For Your Digital Transformation
Finally, we help you establish the financial expectations for the operation of your digital transformation solution, including:
Estimating Assumptions
Tangible and Intangible Benefits
Implementation Cost
Ongoing Cost
Once we reach a consensus on your business case, it is essential to allocate the time required to negotiate contracts, define statements of work, and onboard partners.
Summary: Clear iQ's Digital Transformation Approach
Clear iQ balances your business objectives and technology capabilities to ensure a smooth digital transformation. To accomplish this, we:
Conduct assessments of current state needs and capabilities
Balance need for achieving table stakes capabilities with best-in-class capabilities
Align business and technology teams
Drive build versus buy decision-making, along with application selection, if needed
Create financial plans that account for process, organizational, and technology costs
Develop an Application Roadmap to guide the transformation efforts that gives a long-term attention span and short-term wins
Assist in vendor negotiations for software and implementation services, as needed
Mobilize the project team to begin the implementation journey using the 7 Pillars of Digital Readiness
Digital Transformation Implementation: Assessing Your Digital Readiness
Before embarking your digital transformation implementation, we evaluate your organization's
digital readiness
to ensure you meet internal and external expectations.