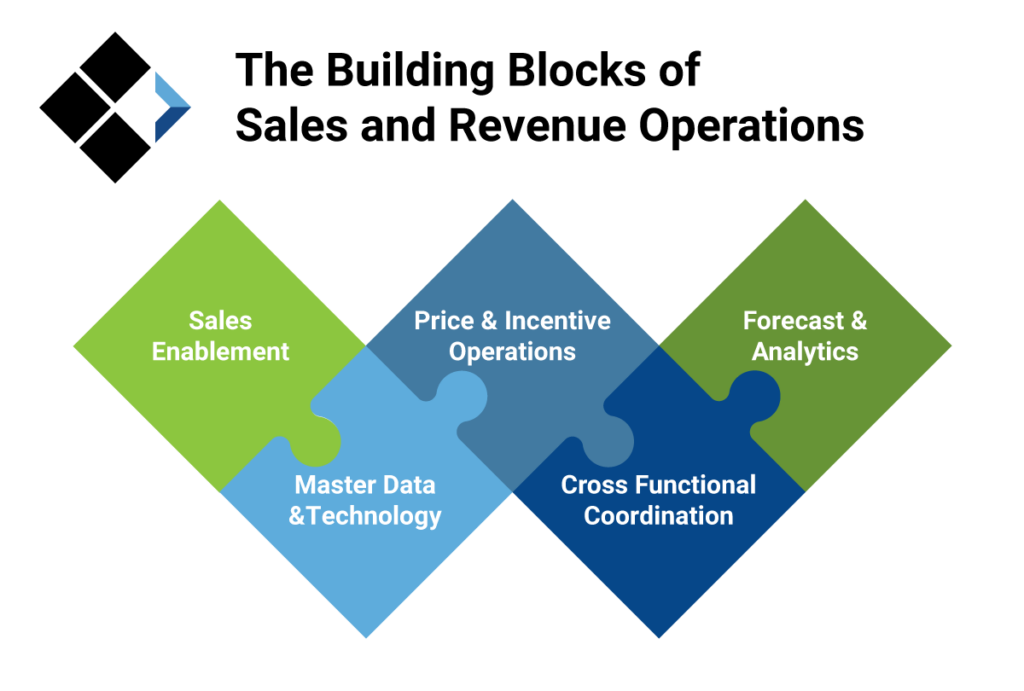 Your sales and revenue operations connects sales and finance organizations by managing the processes and systems that support these functions. But most importantly, it enables your sales team to stay organized and focused on selling.
Sales and revenue operations reduces friction on salespeople by taking on cross-departmental tasks such as coordinating with legal, customer service, product management, IT, and credit and collections.
1–Sales Enablement
Sales enablement covers:
Lead generation
Opportunity identification
Sales playbooks
New customer identification and acquisition
Sales contracts
Customer onboarding
Customer renewals
To support sales teams in identifying leads and creating opportunities, sales and revenue operations should provide a dedicated playbook and manage new customers through acquisition and onboarding, credit and contracting, and renewals.
2–Price and Incentive Operations
Once price and incentive strategies are determined, sales and revenue operations enters price conditions into the appropriate applications(s), ensures every opportunity follows the deal desk rules for approvals, and calculates any incentives, commissions, and rebates earned.
Sample activities within price and incentive operations include national and market price maintenance and opportunity pricing.
3–Sales and Revenue Forecasting and Analytics
Sales and revenue forecasting and analytics provides top executives with insights into pipeline management and previous sales and revenue analytics to forecast data. Forecasted data will provide information about potential orders, renewals, payment schedules, returns, and incentive calculations.
In addition to sales pipeline management and reporting and sales and revenue forecasting, your forecasting and analytics function supports market and competitive data acquisition.
4–Master Data and Technology Leverage
This building block ensures your business process and technology tools enable complete, accurate, and non-duplicate master data with a single source of truth for each attribute.
In addition to master data management and technology tool enablement, it supports digital customer solutions and eCommerce, customer experience, and customer satisfaction.
5–Cross Functional Coordination
Cross-functional coordination ensures that peers collaborate across various departments to remove roadblocks and ensure the effectiveness and efficiency of the whole organization.
This coordination between functional areas helps:
Process improvement
Reduce the effects of silos
Legal and regulatory compliance
Project financial reporting
Cross-functional process improvement and technology deployment
Clear iQ's Sales and Revenue Operations Approach
Clear iQ partners with clients to organize sales and revenue operations and functions to improve efficiency throughout the organization. To do this, we:
Design targeted sales playbooks to highlight activities, targets, timelines, and outcomes to monitor progress for each salesperson
Build RACI (responsible, accountable, consulted, and informed) or RAPID (input, recommend, agree, decide and perform) responsibility matrices based on how your organizations want to operate
Design and implement efficient cross-functional support processes
Evaluate master data completeness and accuracy and offer roads to improve
Leverage technology to ensure coordination across departments and improve customer experience