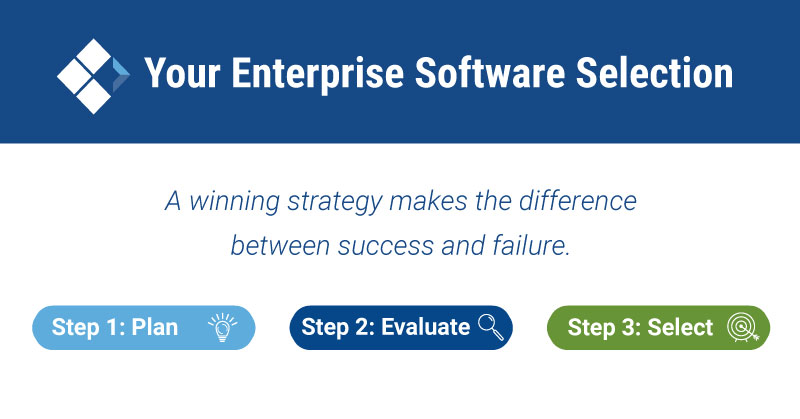 In today's rapidly evolving business landscape, adopting a well-defined enterprise software selection is pivotal for companies working to enhance efficiency, streamline operations, and stay competitive.
This article covers the intricacies of creating an effective enterprise software selection and highlights the critical stages of planning, evaluation, and selection.
We'll explore how Clear iQ's specialized approach guides organizations through these phases, ensuring informed and fact-based software decisions.
Plan Your Enterprise Software Selection
In the realm of Application Landscape, companies confront the challenge of selecting primary and secondary applications that align with their business objectives. Primary applications such as Customer Relationship Management (CRM), Enterprise Resource Management (ERM), and secondary applications like eSignature and tax software play a critical role in achieving seamless operations.
Evaluate Internal Strategies
Before crafting an effective enterprise software selection, several crucial questions must be addressed:
Initiate Decision-Making: Begin by outlining a clear roadmap for your decision-making process. Establish key milestones and timelines to guide the strategy's progression.
Involve Stakeholders: Second, identify selection committee participants, ensuring representation from various departments and roles. This collaborative approach fosters diverse perspectives and aids in comprehensive decision-making.
Set Software Selection Criteria: Next, develop well-defined criteria that prospective software solutions must meet. These criteria should encompass functionality, scalability, integration capabilities, and alignment with business objectives.
Implement and Define Your Support Team: Determine the team responsible for implementing the chosen software. Allocate roles and responsibilities to ensure a seamless integration process.
Negotiate Pricing: Develop a clear strategy to negotiate pricing with vendors. This involves understanding the total cost of ownership (TCO), including implementation, support, and licensing fees, to enable effective negotiations.
Select the Right Enterprise Software: Clear iQ's 5-Step Approach
As you navigate the selection process, Clear iQ works with you through a series of strategic steps aimed at guiding you toward the optimal enterprise software solution.
1–Evaluate Vendors Objectively
Clear iQ conducts a thorough and unbiased review of vendor demonstrations and RFP responses. Our approach ensures that each aspect of a potential application solution is scrutinized objectively, enabling you to decide based on tangible merits.
2–Analyze Total Cost of Ownership (TCO)
Clear iQ conducts a comprehensive apples-to-apples comparison of each option's total cost of ownership (TCO). This analysis offers a clear and comprehensive view of the financial implications associated with each solution, enabling you to make the right choice.
3–Envision Benefits
Clear iQ works collaboratively with your team to outline the anticipated benefits of the selected solution.
4–Forge consensus and Alignment
Guided by us, your organization's stakeholders come together to build consensus on your organization's chosen vendor and objectives.
5–Vendor Notification
Finally, Clear iQ takes proactive steps to communicate the outcome to the selected vendor on your behalf.
By engaging with Clear iQ during the selection process, you harness a comprehensive and expert-driven approach that empowers you to make an informed choice that aligns with your business strategy.
More on Clear iQ's Enterprise Software Selection Approach
Clear iQ specializes in helping you move from analysis paralysis in your casual consideration of enterprise application solutions, to making fact-based software decisions. To facilitate this, we:
Interview selected stakeholders throughout your organization and external to the organization (customers or vendors) if needed
Understand the universe of possible software applications & add-ons
Describe your company, market, vendors, transaction volumes, and relevant strategies
Focus software demonstrations on key differentiating business processes
Ensure vendor questions are answered quickly and fairly
Coordinate vendor meetings and demonstration
Conduct evaluation meetings
Review pricing and proposals to ensure apples-to-apples comparisons
Create a comprehensive five-year total cost of ownership, including implementation costs, annual support costs, and software license fees
Build benefits estimates and calculations
Gain consensus on direction among client stakeholders
Provide negotiating strategies to lower the cost of ownership
Contact Us to discuss your enterprise software selection.