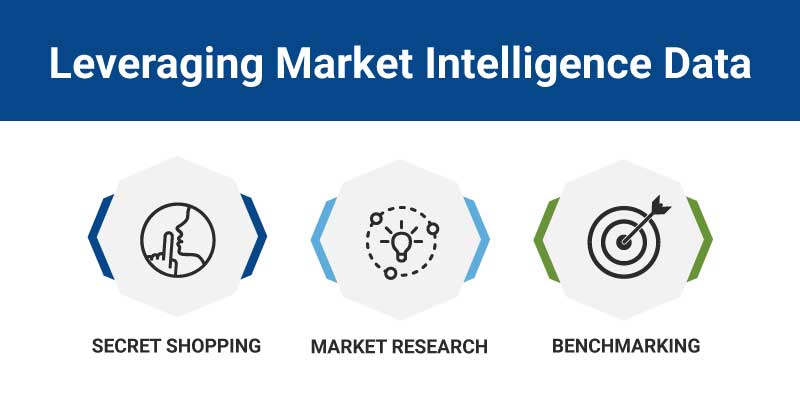 In the ever-evolving business landscape, gathering external insights about your market is only valuable if you effectively utilize the information to make informed decisions and drive meaningful changes. Turning raw data into actionable intelligence requires a comprehensive understanding of how to leverage each source of information effectively. Market intelligence, consisting of secret shopping, market research, and benchmarking, offers powerful tools to gain a competitive edge and drive strategic growth. This article explores the significance of market intelligence and highlights Clear iQ's approach to utilizing market intelligence data.
Secret Shopping: Uncovering the Customer Experience
Secret shopping is a vital component of market intelligence, providing firsthand insights into the customer experience when interacting with an organization's products or services. By evaluating anonymous customer interactions, businesses can identify strengths, weaknesses, and improvement areas within their customer service. Moreover, secret shopping exercises motivate front-line personnel as they directly influence customer buying behavior. Clear iQ understands the importance of this aspect and helps organizations design and execute effective secret shopping programs to enhance the overall customer experience.
Market Research: Shaping Targeted Strategies
Market research plays a pivotal role in understanding market dynamics, consumer behavior, and emerging trends. It enables businesses to determine the most effective implementation strategies that influence customer buying behavior across various markets and submarkets. Clear iQ assists companies in conducting thorough market research, enabling them to gain insights into market trends, competitive strategies, consumer preferences, and untapped opportunities. By leveraging market research data, organizations can refine their strategies and make informed decisions that resonate with their target audience.
Benchmarking: Driving Performance Improvement
Benchmarking is a valuable tool for companies to compare their quantifiable results with those of other organizations within and outside their industry. By identifying improvement opportunities for efficiency and effectiveness, benchmarking enables businesses to set performance targets and implement process enhancements. Clear iQ supports organizations in identifying suitable benchmarking companies, scoping contracts, and executing benchmarking initiatives. Through benchmarking analysis, businesses gain a deeper understanding of their competitive positioning and identify areas for continuous improvement.
Clear iQ's Approach to Utilizing Market Intelligence Data
Clear iQ recognizes the significance of market intelligence and offers a comprehensive approach to help businesses leverage its power. We work closely with you to define the types of market intelligence needed and provide guidance on interpreting the results. To do this, we:
Organize questions requiring market intelligence to answer
Conduct secret shopping exercises
Segment the market and submarkets for evaluation
Identify market research and benchmarking companies and assist with scoping contracts
Assist in defining and executing external benchmarks
Analyze the results within the context of go-to-market strategies, sales and revenue analytics, and ongoing digital transformation initiatives