Learn about Clear iQ's rapid 5-step approach to understanding your sales performance through sales and revenue analytics.
Benchmarking your sales performance and measuring the results of your decisions requires a disciplined and consistent approach.
We have developed a simple equation for sales and revenue analytics: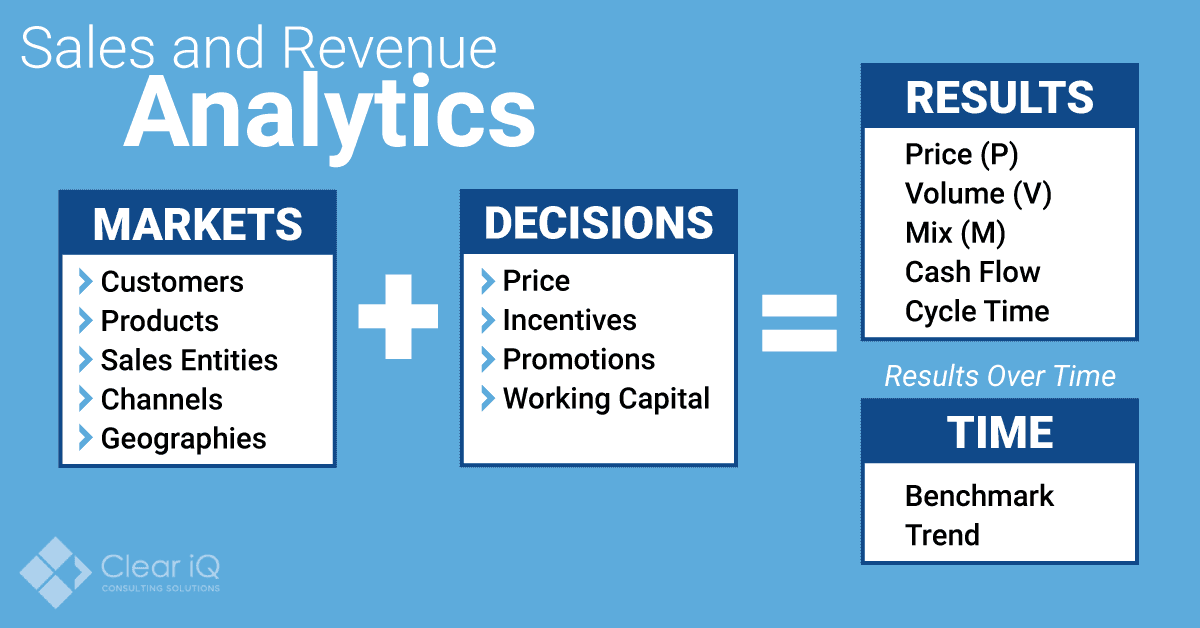 Elements of the Sales Performance Equation
Market
Segmentation of market drivers enables business leaders to understand success versus failure.
Decisions
Decisions are grouped into several subject areas. The decisions can be tested over time to set a baseline and measure results.
Results
Results are evaluated within performance categories and trended over time based on a defined calendar. Benchmarks must be established to baseline and measure the result of strategies and decisions. Understanding and measuring the Price, Volume & Mix (PVM) equation requires a consistent methodology.
Understanding your performance through sales and revenue analytics is a simple equation but requires a disciplined, fact-based approach.
Clear iQ's Approach
At Clear iQ, we use our Price iQ, Channel iQ, and Product iQ capabilities to benchmark and track your results over time.
We baseline and evaluate your sales performance with our rapid 5-step process, quickly evaluating and analyzing performance against a set of agreed-upon hypotheses. Our proprietary iQ solution set helps us leverage common formulas, analyses, and visuals to ensure success.
Provide data request and agree upon a timeline
Conduct stakeholder interviews to develop hypotheses
Load and reconcile data within our iQ solution set
Explore and analyze your sales performance
Share observations and findings
Let us baseline and evaluate your sales performance!
This 5-step process typically requires 3 to 6 weeks. We train your team and guide them as they make sales and revenue analytics a part of your decision-making DNA.
Contact Us to discuss your sales performance or to schedule the Rapid 5-step Sales and Revenue Analytics process.